It all started with natural Viagra…
September 2nd, 2013
(A week with Louise in 3 chapters)
Text and photos by: Tjaša Janovljak
We started the Radius Workshops Spring Season with a week long painting workshop with Louise Freshman Brown. This was my second season working with Fred and Louise and our meeting in the beginning of May was warm so I instantly knew we had another great week ahead of us.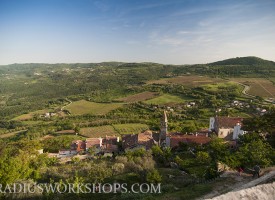 The travel from my hometown and Slovenia's capital, Ljubljana to the small village of Karojba took about 2 hours in my little, old, white Citroen. The journey included crossing the border into Croatia since peninsula Istria stretches over my native country Slovenia and neighboring Croatia. It is very possible that most readers are asking them self or, these days, typing into Google: Which countries are Slovenia and Croatia?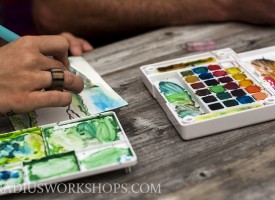 A very brief introduction would be that these are two little countries in the south of Europe, often called the Pearls of Eastern Europe. These two little countries both arose in 1991 from the former Yugoslavia. If you like maps, open the European map, look for the Italian boot in the lower part of the map, then on the right hand side of the Italy, practically next to Venice, lies first Slovenia, then Croatia. Is that geographically east Europe to you?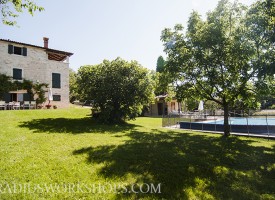 Tradition in this area is to welcome a guest, friend or a stranger, with a firm handshake and a shot of homemade brandy. We welcomed our guests with the two most typical of Istria: Biska (usually grape brandy that had mistletoe leaves soaked in it) and honey liqueur, along with homemade cheese, Istrian prosciutto, local olives, vegetables and with one of the best olive oils in the world. It might sound like French Provence, but we have a Mediterranean all our own! Similar, but different.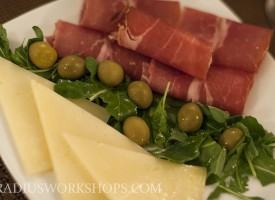 The week was a combination of painting workshops and exploring the area with all the senses. Our first visit was to a neighboring village where the self-professed "Honey Doctors", two elderly bee-keeping brothers, met us, all dressed up in their suits, which they never wear otherwise. The group tasted different kinds of honey, natural Viagra as they call it (honey with ground nuts), home made honey cream and a few home made brandies. At this point I was very happy to have Diego, our driver with me.
Tjaša is a Radius workshops partner, specialized in the Balkans, where she is house manager, translator and guide. You can check her photo blog, collection of her postcards and her little friend's photo page: Little Green Believer.  In case you are traveling to Ljubljana, check out her advices on where to go or book a tour.

One Response to "It all started with natural Viagra…"