Spring 2012
July 28th, 2012
HELLO!
We are back in blistering hot Florida and already missing Turkey and Croatia. Our Painting and Drawing Workshops with Louise Freshman Brown were a blast!

Our 2012 Eastern Visions workshop took place in bustling, frenetic Istanbul and in the Datca, a sleepy hamlet on a mountainous peninsula separating the blue Mediterranean and the turquoise Aegean seas.
We spent five days in Istanbul exploring the bazaars, mosques and ruins of this most ancient of cities. We cruised the Bosporus Straits from Europe to Asia and back again!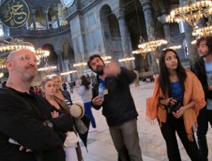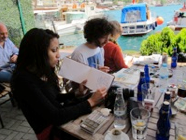 Louise had us drawing, painting watercolors, and creating collages in cafes and teahouses all over this wondrous city. We walked through both ancient ruins and the streets of 21-century Istanbul—a mega-city of 16 million souls.
We then jetted to the Aegean coast, to the Villa Asina, outside of Datca. After the big-city energy of Istanbul, the view of the Mediterranean Sea and the Greek Isles outside our windows was a soothing tonic. Asina was the perfect place for our group to produce art. Sea breezes and delicious Mediterranean food prepared by the Villa owner, Bulent, fueled us! We cruised to the Greek island of Symi for a day and finished up with a show attended by locals and guests.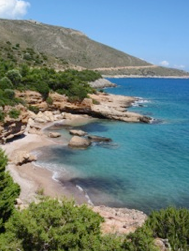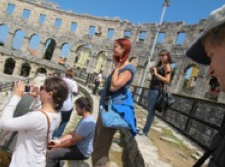 Balkan Bounty was a blast! We settled in to our gorgeous villa overlooking the vineyards and olive groves around Karojba, Istria, Croatia. Istria is so much like Italy, well, after all, it was part of Venice for centuries, not mention Rome before that (we visited an actual coliseum in Pula).
Radius director and chef Fred shopped the local farmers markets and served up some amazing local cuisine. Speaking of local cuisine, we ate at a truffle restaurant in Motovun that was out of this world! Fresh truffles everywhere, even on the dessert! We visited the Venetian cities on the coast and the hill towns inland where we tasted some of the best wines and olive oils we have ever tasted. We also travelled to Ljubljana (a little jewel of a city!) and up into alpine wine country in Slovenia.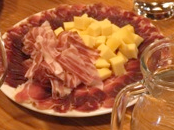 In one day you can have breakfast in Croatia, lunch in Slovenia, afternoon coffee in Italy, and be back in Croatia in time for dinner! Our house manager/guide Tjasa, a Slovenia native, was great,
an enthusiastic wealth of information, and a brilliant shock of color every morning! Diego, our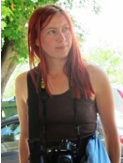 intrepid driver, navigated the twisting roads with aplomb while dispensing his views of the
Balkans from his perspective as an ex-pat.
We are now preparing our fall workshops in France!!
Check out Lyrical Provence, a Creative Writing Workshop with Mark Ari October 2012!