Trip to sLOVEnia
September 16th, 2013
(A week with Louise in 3 chapters)
Text and photos by: Tjaša Janovljak
As I already mentioned, Mocibobi – a tiny village where we stayed, near a bit bigger (It has it's own shop and a bar!) Karojba village is not far from Ljubljana, my home town and capital of Slovenia. Not just because I live here, Ljubljana is truly a town not to miss.
Rich history, being a part of Austro – Hungarian Empire for about half a millennium, 4 important years of Napoleon rule as a part of Ilyrian provinces and the last but not least era of biggest Slovenian architect Jože Ple?nik made Ljubljana a very unique place. With less than 300.000 inhabitants it is one of the smallest capitals in the world, but full of attractions and more important, full of nice people.
We spent a full day in Ljubljana! We were exploring the oldest part below the castle, walking on the embankment of green River Ljubljanica, touching antiques at a Flee market and – very important for the painters – we've visited the Modern Gallery.
Regular readers have learned till now – or of course knew from before – that our workshop was mainly happening around Croatian peninsula Istria, but very near Slovene border. So, it would be a sin not to cross the border twice.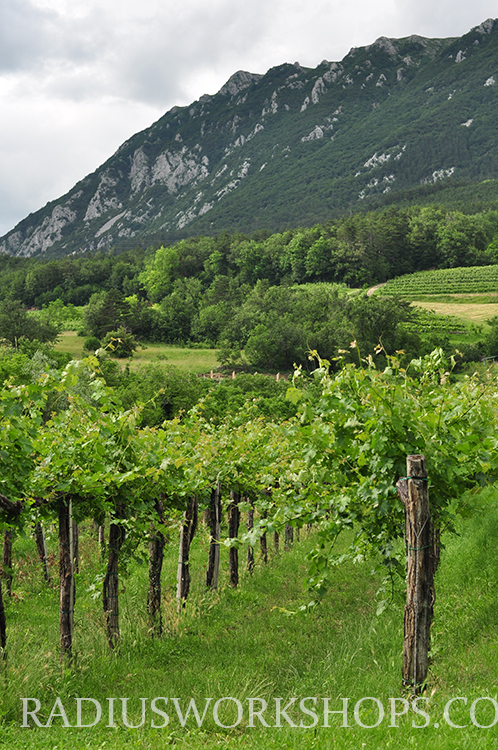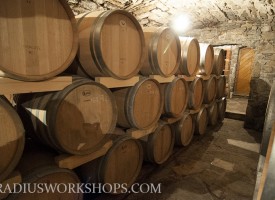 Apart from a trip to Ljubljana we went to a valley, more close to Alps and therefore totally different landscape than Istria. Amazed by the landscape – and I have to admit I am amazed every time I am there and I sometimes wish I hadn't been there before so I would have a pleasure to feel again how it is to lay eyes on this valley for the first time – we've entered the wine cellar.
Yes, proper wine cellar with oak barrels, bariques and a bit stuffy smell. And we had, what is usual for wine cellars around here, wine tasting served with home made bread, local cheese and local sausages and of course prosciutto. Let us not forget, we were in the land of prosciutto.
To summarize, I can say we've seen a lot, we've ate a lot of delicious food, drank magnificent wine, we've learn a lot and the most important we had fun. And combining this beautiful things with marvelous, pristine environment and warm people that were surrounding me was just great experience. Thanks Louise for all the specially for me chopped tomatoes, Fred for listening what I have to say, thanks David for coming again, Anthony and Claire for being such a great and fun couple, Michael to remind me how confusing was my first travel overseas. Thank you Nicole for a shoulder, Joyce for all the questions, Laura and Danya for being so sweet. Thank you Darryl for fun and all the jokes that you made real. Last but not least, Diego, thanks for introducing me to Radius and of course for all the help and ears.
Tjaša is a Radius workshops partner, specialized in the Balkans, where she is house manager, translator and guide. You can check her photo blog, collection of her postcards and her little friend's photo page: Little Green Believer.  In case you are traveling to Ljubljana, check out her advices on where to go or book a tour.