Becoming Words
May 1st, 2013
by Phillip Wenturine

Lyrical Provence: Creative Writing with Mark Ari, conducted through Radius Workshops, was a juxtaposition of luscious scenery, literary advancements, and lifelong friendships. Having taken numerous creative writing classes with Mark Ari at the University of North Florida, I knew I could not pass up such a wonderful opportunity to study with him in the beautiful vineyard of France. The group of writers on the workshop worked alongside painters in another workshop with Louise Brown, Ari's fellow professor at UNF. Her son, Frederick Brown, heads the workshops and is a professional chef who conjured up decadent dinners each night of the workshop. The groups lodged inside a 400 year old villa located in countryside of Provence. It had numerous bedrooms, a comfortable living room, and a yard that was bright red with the bloom of a spectacular poppy field. There was even a swimming pool for a refreshing break from the summer heat. All of the writers and painters grew in camaraderie, surrounded by one another and all of us submersed in inspiring scenery and inspiriting atmosphere.
I write in all genres, but I especially enjoy in the lyric essay and have found that to be my niche. It was really helpful to work alongside Ari in such a flourish of color and new culture.  It brought my words to life as they became the stories they yearned to be.  I'd wake up in the morning with a cup of hot coffee and stare out over the vineyards to the mountains and above them, my mind bubbling with new ideas for pieces I would write.  After morning yoga in the poppy field with fellow writers, they and I would separate, each to a secret place, each with pen and paper, all of us eager to unloose our hearts onto new pages.
There was one particular experience, out of which I wrote my favorite piece to date.  It was a spontaneous late night camping trip. Some of us writers decided to go camping underneath the stars. So, after Ari read to us some of his own work, we trekked across an icy creek up into the mountains with nothing to guide us but the flash of our phones. It was ironic to have this technology in such a rural place, but it came in handy. Then, atop blankets and nestled underneath the trees next to the ruins of an abandoned farmhouse, we lost ourselves under watchful stars. I lay awake for hours working over a paragraph on this little keypad of my phone. Something emerged greater than I ever could imagine.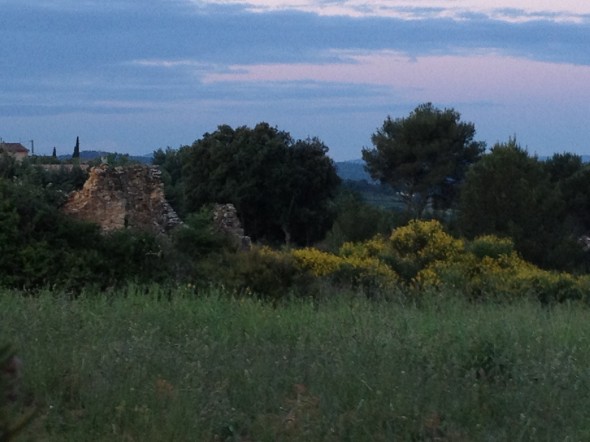 The next morning we came down, ate breakfast, and went hiking off into the mountains again. Full of joy from the night before, warm in the midday sun and with mountains all around, we climbed higher and higher and higher, turning left and then right, romping in every direction, breathless from the views.  By the time we meant to return late that afternoon, we had completely lost our way.  We were stranded miles up in the French mountains.  We didn't know the direction home but, with pens and paper and friendship, we felt more found than lost.  This was where we were meant to be.
After several hours we found a little farmhouse and stole water from a spigot to rehydrate.  Then we found a road and hitchhiked our way back home.  This became another story, one to birth many more to come.
Words, essentially, are the only thing we have in this world.  They are our way of communicating to one another and ourselves, to tell our stories.  We are all just characters in one large story larger than our own lives.  Down the road, we become only something that can be told.  Words are everything.  In the workshop, words came to life for me. And, perhaps more importantly, I became the words I inked onto paper.
Throughout our time in Provence, we traveled to many unique markets, galleries, and landmarks.  We learned the culture of this land and people.  The painters among us read these trips into their canvases.  At the end of our stay, at the end of the workshop, we writers, painters, and others who joined us gathered to celebrate and share our work at a massive family dinner. It was wonderful to see all that diverse talent, all that work that was at once, so similar and yet particular to each artist, painter or writer.  Each with its own twist.
Together, we created pieces I believe we will cherish forever.  It was as though the workshop made it possible for every one of us to take our work one step further, to learn to channel our possibilities in ways that will come out in future works, as well.  With the guidance of Mark Ari, Louise Brown, and Frederick Brown, we learned aspects of art we couldn't learn anywhere else.  What they gave us was truly a once in a lifetime experience.