A Food & Wine Tour of Lyon and the Rhone Valley
Radius Workshops is pleased to present our second Lyon Food and Wine Tour. The tour will take place June 13-20, 2011. The group will spend five days in and around Lyon and two days on excursions to the vineyards of Beaujolais, Côtes du Rhône and Burgundy. Our voyage will be a Tour de Force of eating and drinking but also a seminar on food culture and society. We will attend cooking demonstrations, kitchen tours, visit the glorious food markets and participate in cooking classes. We will explore some of the best wine producing regions in the world, and sample the wine and the cuisine of the area.
When:

June 13-20, 2011

Where:

Lyon, France

Price:

$
Sign Up

&

Register Now
Features

&

Info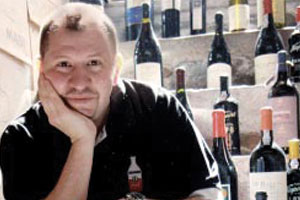 Georges Dos Santos- Wine and Culture Expert (Photo Credit- Lucy Vanel)
Georges will be our sommelier and guide for our excursions into wine country. Georges is one of the foremost experts on wine and food culture in Lyon.
From the Toronto Star
LYON, France— Georges Dos Santos cracks open his 15th bottle of wine of the day and serves up a smorgasbord of tasty advice along with a healthy helping of crisp, cold Chardonnay. At his fingertips are dozens of wine tomes, gourmet magazines and hundreds of business cards from his favourite local restaurants. There's also a stack of « the bible of Lyon » — the Lyon Restaurants guide — which Dos Santos hands out religiously. His tiny shop, Antic Wine, in the historic heart of Lyon, is more than just an eclectic place to come for wines and free tastings. It's a crucial first stop for visitors looking to get their bearings in what's billed as 'the culinary capital of France'. Dos Santos knows the food and wine of Lyon as well as [anyone]. More than 4,000 bottles of wine line the walls and cram the cellar of his historic shop on cobble-stoned rue du Boeuf. "This area is unique ," says Dos Santos. '"If you go to Bordeaux, all you can drink is Bordeaux. If you go to Paris — well, there's no (sic.) vineyards. We're the only town in the world with three (wine-growing regions) within 30 minutes."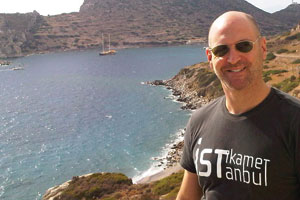 Frederick Brown
Frederick Brown, director, will be leading this tour. He has worked as a chef and culinary professional in the United States and in Europe for more than 15 years. Fred's love of all things gastronomic and his mastery of craft make him a knowledgeable, enthusiastic guide. Fred has worked as a chef in New York City, Italy, France and Finland. He has also taught cooking and assisted in the production of food and wine events for Bon Appétite Magazine.
He brings a broad knowledge of food and food culture in addition to his formidable culinary skills. Fred believes in the use of local artisanal products and produce and will guide the group through the unparalleled markets of Lyon, to Michellen Star temples of Gastronomy and to the petit bouchon that preserve the cuisine de 'grand-mères lyonnaises'. We will incorporate local guides, chefs and wine experts to make this trip an unforgettable and informative experience.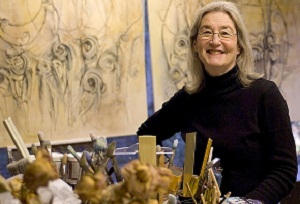 Louise Freshman Brown
Louise, co-director, will act as our Arts guide, directing us to some of the dozens of museums, and to some of the incomparable renaissance, medieval and gothic architectural sites that dot the metropolis. In 1998 Lyon was made an UNESCO World Heritage site and is comparable only to Venice in the preservation of entire areas of medieval art and architecture.
Louise, a painter and mixed medium artist, work has been featured in museum exhibitions and galleries throughout the United States and Europe. Her solo exhibitions include; Piirto Gallery, Helsinki, Finland, Everson Museum, Syracuse, NY, The Jacksonville Museum of Contemporary Art, Jacksonville, FL, The Deland Museum of Art, DeLand, FL, and Monique Goldstrom Gallery, NYC. She is a professor of art at The University of North Florida, Jacksonville, FL where she has been recognized for excellence in teaching and scholarship. In 2005 she received the Outstanding Faculty Scholarship Award and the Distinguished Professor Award in 2007.
...the best part for me, was the memory of the trip to the winery with Fred and Louise Brown on the trip to Lyon. The owner of the winery in Brouilly in Beaujolais served us the most delicious pork roasted over grape must, and beaucoup du vin! Opening the bottle and sharing it tonight just brought back pictures of that wonderful trip with Radius Workshops to Lyon. Isn't it great how a bottle of wine can bring back such wonderful memories? One of the highlights of this year for me!
Additional Information
Workshop
The 2011 Lyon Food & WIne Tour include:

- Tours of Vineyards in Beaujolais, Cotes Du Rhone and Burgundy
- 4 Dinners in Lyon including a One Michelin-Star meal at Restaurant Cristian Tetedoie and a Wine Dinner at Georges - 5 hosted by the Flying Sommelier Georges Dos Santos.
- 1 Terroir dinner at the world-renowned Auberge du Cep in Fleurie
- Wine Lunch in Ampuis, (Northern Cotes du Rhone)
- 2 course cooking class with Chef Christian Tetedoie
- Market Tours with local experts
- Architecture Tours
- Art instruction from noted artist and professor Louise Freshman Brown
- Three-Star double-occupancy lodging at a stylish and modern boutique hotel (single-occupancy available w/supplement) overlooking Vieux Lyon
- Continental Breakfast daily
- Airport Transfers